Mini Toppers
As well as the Atop of the tier cake toppers, I also make mini toppers, which can be found over at www.cake-toppers.co.uk a smaller more simple version of these, but made in a similar style.
"We provide personalised cake toppers for Weddings, Civil Partnerships, Christenings, Birthdays or any other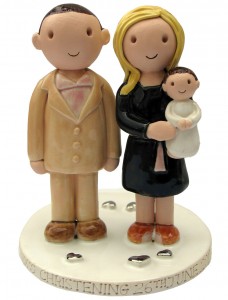 occasion. Our cake toppers are hand crafted from kiln fired earthenware clay, and are personalised to match your clothes, hair, skin colour and other features unique to you.
These cake toppers are designed to feature adult people, but for a small additional charge can also include additions such as lustre hearts, babies and children. Your cake topper can also be engraved with names and / or dates."
The topper pictured was made for a Christening. The couple had already had an Atop of the tier topper made for their wedding a few years ago, and wanted to add to the collection of special occasion toppers.  A lovely way to remember a special day.
For more information about the toppers pop over to www.cake-toppers.co.uk for lots of photos of toppers, and toppers on cakes.