Prices & Ordering
** Limited spaces available for 2017, book now for 2018 **
** Full details not needed at time of ordering **
Fill in the form below and we will send you a full order form where you can detail all customisations you require. The order form has sample pictures and details to make ordering straight forward and easy. For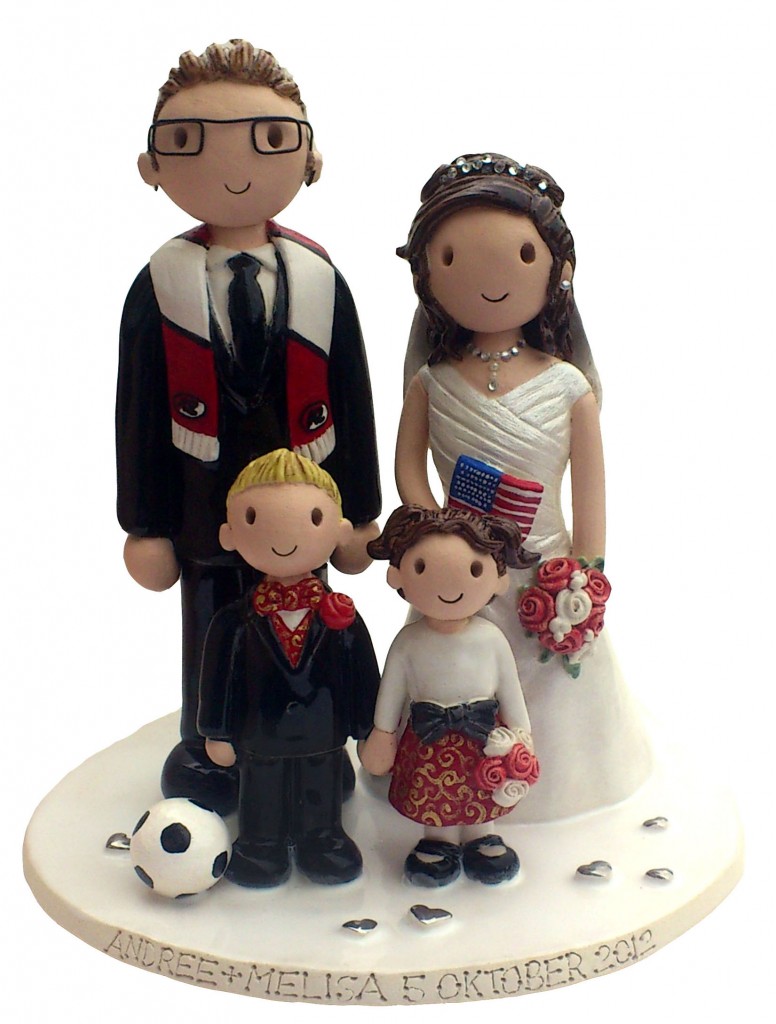 general enquiries please use the contact page, feel free to discuss or confirm any details.
Toppers are made to match each individual persons clothing, hair, skin colour etc.
The base is circular and measures 9.5 cm across for a standard bride and groom, and small additions.
Atop of the tier toppers are high quality ceramic toppers, that will last forever.
Book as soon as you know you would like a topper, we book up very quickly every year, but don't worry, the full information is not needed until 6 weeks before your wedding.
Full payment is not taken until work has started on your topper.
Limited spaces available for 2017, book now for 2018
** Full details not needed at time of ordering **
Please read the following terms and conditions
Toppers are a basic likeness to the subjects and not an exact reproduction.
Because booking spaces are limited we are unable to return payments once your full order has been received.
If you would like to have any major features added that aren't listed please contact Atop of the tier before ordering as prices may vary.
Pictures of your finished toppers may be used as examples.
All sales are final we do not issue refunds, credits or exchanges.
We only accept orders for events within the next 18 months, by booking you will avoid any price increases.
Cheque, paypal, BACS or credit card payments are accepted.
We will not pass on your details to any other company.
We do not supply standard designs, all orders are bespoke.
We only supply ceramic cake toppers; we do not make or supply cakes.
Deposits are non refundable.
Booking spaces are limited. If you would like to pre book your topper for your wedding date, but do not have all the clothing details ready, that is fine. Full information can be sent back anytime up to six weeks before the wedding.
A standard bide & groom topper base measures 9.5cm across, for major additions the base will need to be bigger to accommodate the extras. For toppers in different positions i.e. not standing there may be an additional charge due to the time involved.
Your finished topper will be delivered around two weeks before your wedding date and on a day arranged with you.
All toppers have the option of having names and dates added for an additional £5, and are all available with any colour scattered hearts on the base.
Toppers are insured during transit, it is very rare that breakages occur, but if there is any damage it must be reported immediately, claims can only be made to Fedex within 24 hours of delivery.
We no longer ship outside of the UK
Your topper will be made to match your details. No two toppers will ever be the same.

Price list
Price Of Cake Topper
Bride and groom: £195.00
Civil partnership: £195.00
Individual person: £100.00
Gretna Green sign & anvil £55.00

Optional Additions

Engraved names and dates: £5.00
Hearts in any colour on the base: £5.00
Robin, mouse, hedgehog, chicken: £10.00
Guinea pig, rabbit, lizard: £10.00
Cat: £15.00
Dog, sheep, pig: £20.00
Horse, cow: £50.00
Car, van, tractor, plane: £185.00
Motorbike, scooter: £100.00
Boat, sidecar: £125.00
Bicycle: £15.00
Surfboard: £20.00
Flag, scarf: £8.00
Signpost: £20.00
Skis, snow board, scuba equipment: £15.00
Fishing rod: £15.00
Football/rugby shirt: £5.00
Kilt: £5.00
Laptop, golf/cricket equipment: £8.00
Blackboard on an easel: £20.00
Beach base: £10.00
Woodland base £25.00
A baby (age 0 – 2): £45.00
A child (age 3 – 12): £55.00
Teenager (age 13 – 15) : £70.00
Additional Adult (age 16 +): £90.00
Animal bride and groom in clothing: £210.00 for pet bride and grooms please go to pet topper page
Deposit

There is a £10.00 non refundable deposit payable on submitting this form. This secures your order and is later taken from the total price of your cake topper.
Postage
All orders are subject to a delivery charge of £12.50. We use a courier service which includes insurance for your topper during transit. Toppers are packaged extremely well. We no longer ship overseas (excluding UK postcodes).
Payment Options
The £10.00 deposit should be paid by PayPal on submission of this order form. PayPal accept most major credit and debit cards, and you do not need to be a member of PayPal to pay via PayPal. The full price of your cake topper and the postage, less the deposit, can be paid by PayPal, Credit or Debit card, BACS or by cheque, when work has started on your topper. If for any reason you are unable to pay the deposit via PayPal, please contact us before placing your order.